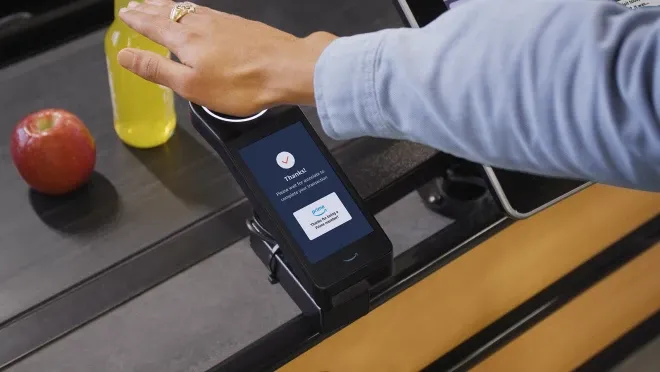 Amazon One: Embracing the Future of Shopping and Payments
Amazon One is a palm recognition service that is quickly gaining popularity. With more than 3 million uses and counting, Amazon One is a critical milestone for Amazon Web Services, and it continues to gain momentum in the retail landscape. What is Amazon One? Amazon One is a palm recognition service offered by Amazon Web Services, designed to enhance customer identification, payment processing, loyalty membership access, and entry across more than 400 locations in the United States. By hoveri
by Growpay
Amazon One is a palm recognition service that is quickly gaining popularity. With more than 3 million uses and counting, Amazon One is a critical milestone for Amazon Web Services, and it continues to gain momentum in the retail landscape.
What is Amazon One?
Amazon One is a palm recognition service offered by Amazon Web Services, designed to enhance customer identification, payment processing, loyalty membership access, and entry across more than 400 locations in the United States. By hovering their palm over an Amazon One device, customers can effortlessly pay for their purchases at participating stores, eliminating the need for wallets or phones. Prime members who link their Amazon One profile with their Amazon account enjoy the added benefit of automatic savings applied to their purchases.
Whole Foods Market Embraces Amazon One
Whole Foods Market, as a part of Amazon's network, is fully embracing Amazon One. By the end of this year, all 500+ Whole Foods Market locations in the U.S. will offer Amazon One for payment and Prime membership benefits. This means that customers shopping at Whole Foods Market can enjoy the ease and convenience of palm recognition technology, streamlining their shopping experience.
Amazon One's Commitment to Privacy and Security
Amazon One was developed with customer privacy, data security, and accuracy as its core tenets. Amazon has been a pioneer in innovation for almost three decades, and this commitment shines through in their latest venture, Amazon One. The service combines cutting-edge biometrics, AI, and machine learning to offer a fast, convenient, and contactless means of identification, entry, and payment.
Key Facts about Amazon One
Customer Control - Amazon One puts customers in control of their data and usage. Palm recognition is an intentional gesture, requiring an active interaction with the Amazon One device. Moreover, Amazon One does not detect gender or race, ensuring it remains unbiased and inclusive for all users.
High-Level Security - Amazon One employs a unique "palm signature" that is 100 times more accurate than scanning two irises. This ensures that palm data cannot be replicated to impersonate individuals. Additionally, Amazon One uses liveness detection to prevent spoofing attempts.
Safeguarded Customer Data - Customer palm data is securely stored in the AWS Cloud, benefiting from the advanced security capabilities of AWS, including encryption and multi-layered controls. Access to this data is strictly limited to authorized AWS employees.
Data Confidentiality - Amazon One does not share palm data with any third parties, and it is not interoperable with data from other sources. This proprietary combination of palm and vein imagery guarantees data confidentiality.
Customer Love for Amazon One
Customers are increasingly drawn to the speed, convenience, and contactless nature of Amazon One. It is currently available at various third-party locations, including select Panera Bread restaurants and travel retailers at major airports. Notably, sports venues like Coors Field have embraced Amazon One for age verification, making it easy for customers aged 21 and over to purchase alcoholic beverages.
How SMBs Can Take Advantage of Amazon One
Small and medium-sized businesses (SMBs) have a unique opportunity to leverage Amazon One to enhance their operations and customer experience. By adopting Amazon One, SMBs can enjoy the following benefits:
Streamlined Checkout - Amazon One's fast and efficient payment system reduces wait times and enhances the overall checkout experience for customers.
Personalized Interaction - Businesses can greet customers by name and provide customized experiences, fostering customer loyalty and satisfaction.
Age Verification Made Easy - For businesses selling age-restricted products, such as alcoholic beverages, Amazon One's age verification capability simplifies the process, eliminating the need for physical IDs.
Expansion Possibilities - As Amazon One continues to expand to new locations and industries, SMBs can reach a broader customer base and explore new markets.
Amazon One's palm recognition service is revolutionizing the way customers interact with businesses and technology. For SMBs, adopting Amazon One offers a competitive edge by providing a secure, convenient, and personalized shopping experience. As more businesses and customers embrace this innovative technology, Amazon One's reach and impact are set to grow further, reshaping the future of retail, identification, shopping and payments.
About Growpay
Growpay is an online marketplace, helping simplify payment discovery for businesses worldwide. For more information, visit www.growpay.co.