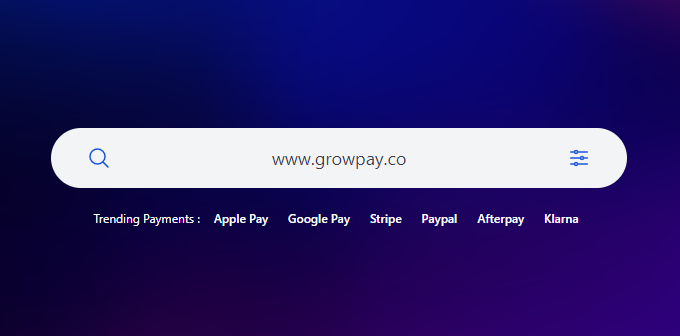 Growpay Simplifies Payments Discovery for Businesses Worldwide
Introducing Growpay, the world's first merchant-centric payments marketplace, launches today with the goal to simplify payments discovery for businesses globally. In a market valued at over $1 trillion, navigating the payments landscape can be an overwhelming experience and costly exercise for businesses. We understand the complexity of payments and the impact it can have on a business, that's why we've built a discovery platform that connects businesses to the world's best payment solutions, a
by Growpay
Introducing Growpay, the world's first merchant-centric payments marketplace, launches today with the goal to simplify payments discovery for businesses globally. In a market valued at over $1 trillion, navigating the payments landscape can be an overwhelming experience and costly exercise for businesses.
We understand the complexity of payments and the impact it can have on a business, that's why we've built a discovery platform that connects businesses to the world's best payment solutions, all in one place. Our goal is to become the go-to destination for businesses seeking new payment solutions, regardless of whether you're starting, running or growing a business.
By leveraging the latest advancements in Artificial Intelligence and Machine Learning, Growpay is uniquely positioned to capitalise on the rising trend of digital payments. Our platform also provides business insights and leads to payment providers, helping better serve their customers, identify whitespaces and continuously look at ways to improve their product or service.
According to the McKinsey Global Payments Report 2023, global payments revenues are expected to reach $3.2 trillion by 2026. This represents a compound annual growth rate (CAGR) of 7.2% from 2023 to 2026. The report also found that the top three drivers of growth in the global payments market are:
1. The continued growth of e-commerce.
E-commerce is expected to grow at a CAGR of 10.9% from 2023 to 2026. This growth will be driven by the increasing adoption of online shopping by consumers around the world.
2. The rise of mobile payments.
Mobile payments are expected to grow at a CAGR of 15.6% from 2023 to 2026. This growth will be driven by the increasing ownership of smartphones and the growing popularity of mobile wallets.
3. The expansion of cross-border payments.
Cross-border payments are expected to grow at a CAGR of 6.9% from 2023 to 2026. This growth will be driven by the increasing globalization of businesses and the growing demand for cross-border trade.
The McKinsey Global Payments Report also found that the global payments market is becoming increasingly fragmented. This is due to the entry of new players, such as fintechs and big tech companies, into the market. As a result, businesses are facing a growing number of payment options to choose from. This can make it difficult for businesses to find the right payment solution for their needs.
Growpay can help businesses simplify the payments discovery process by providing them with a single platform to compare and choose from a wide range of payment solutions. In the future, the platform also hopes to provide businesses with insights, helping them to easily see how their payments stack compares against other businesses, identifying new payment opportunities to increase AOV, better manage cashflow and reduce friction at checkout.
About Growpay
Growpay is an online marketplace, helping simplify payment discovery for businesses worldwide. For more information, visit www.growpay.co.
YOUR SEARCH FOR THE
Best Payment Provider Is Over
Growpay is the only solution that compiles all the best payments and tools in one place - saving you hours of time and effort in your quest to find the perfect payment solution for your business.
Relevant Articles