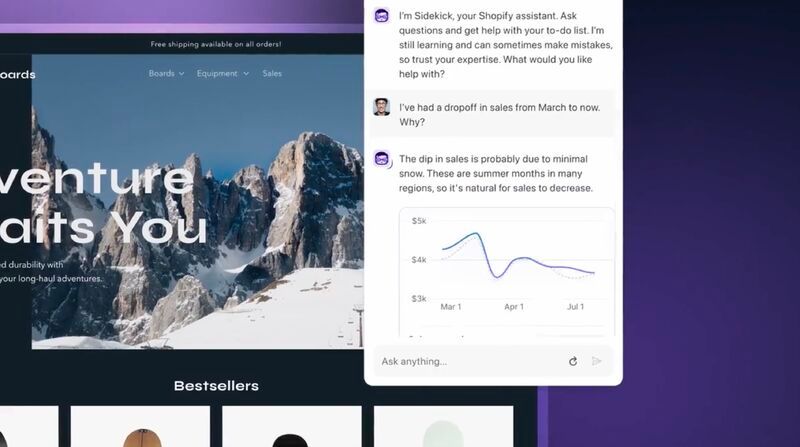 Shopify Launches Shopify Magic: AI Chatbot to Help Merchants Manage Stores
Shopify, a leading e-commerce platform, has announced the launch of Shopify Magic, an AI-powered chatbot assistant that will help merchants manage their online stores. Shopify Magic will be able to answer merchants' questions about their store performance, such as sales trends, inventory levels, and customer feedback. It will also be able to help merchants update their store settings, such as applying discounts, changing themes, and adding products. In a video posted on Twitter, Shopify CEO To
by Growpay
Shopify, a leading e-commerce platform, has announced the launch of Shopify Magic, an AI-powered chatbot assistant that will help merchants manage their online stores.
Shopify Magic will be able to answer merchants' questions about their store performance, such as sales trends, inventory levels, and customer feedback. It will also be able to help merchants update their store settings, such as applying discounts, changing themes, and adding products.
In a video posted on Twitter, Shopify CEO Tobi Lütke demonstrated how Shopify Magic can be used to help a snowboarding store owner who is seeing a decline in sales. Shopify Magic was able to identify the reason for the decline in sales (the lack of snow) and suggest a solution (offering a sitewide discount). Shopify Magic was also able to help the store owner swap out the snowboards on the website homepage for surfboards, as the summer months are approaching.
Lütke said that Shopify Magic is designed to be a "copilot" for merchants, helping them to manage their stores more effectively. He also said that Shopify Magic will not question merchants' visions, but will instead help them to achieve their goals.
The launch of Shopify Magic is a significant development for Shopify, as it demonstrates the company's commitment to using AI to improve the e-commerce experience for merchants. Sidekick is expected to be available soon, and it is likely to be a valuable tool for merchants of all sizes.
Here are some of the benefits of using Shopify Magic
Shopify Magic can help merchants to save time and money by automating tasks such as answering customer questions and updating store settings.
Shopify Magic can help merchants to improve their store performance by providing insights into sales trends and customer behavior.
Shopify Magic can help merchants to reach a wider audience by providing translations for the chatbot in multiple languages.
If you are a Shopify merchant, I encourage you to check out Shopify Magic. Shopify Magic a powerful tool that can help you to take your e-commerce business to the next level.
About Growpay
Growpay is an online marketplace, helping simplify payment discovery for businesses worldwide. For more information, visit www.growpay.co.