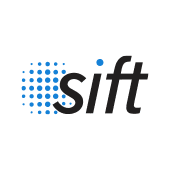 Sift
Go beyond fraud prevention.
Sift prevents fraud with industry-leading technology and expertise, an unrivalled global data network. Sift prevents fraudulent payments, fake accounts, spam, scams, and account takeover while reducing false positives and powering frictionless experiences.
Massive data. Unmatched accuracy. Ever-evolving expertise

Sift customers gain a competitive edge through the commitment of breakthrough technology, global community, and long-term partnerships.

The engine that powers digital trust and safety

Proactively prevent fraud, streamline operations, and grow revenue with an integrated solution.  

Insights from fraud fighters across the world

Benefit from the shared knowledge of over 34,000 sites and apps using Sift.